February 14, 2014
Jack Covert Selects:
Jack Covert Selects - Smart People Should Build Things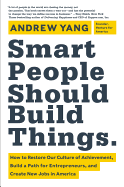 Smart People Should Build Things: How to Restore Our Culture of Achievement, Build a Path for Entrepreneurs, and Create New Jobs in America by Andrew Yang, HarperBusiness, 272 pages, $26.99, Hardcover, February 2014, ISBN 9780062292049
Andrew Yang has a very simple, yet profound idea for the American economy: smart people should build things. By "smart people," Yang is referring to the academically gifted—the top students from the top universities in America. It is from that talent pool that Wall Street, the major management and financial consulting firms, and the preeminent law firms recruit their employees, and they usually get their pick. And that, as Yang sees it, is a problem. And it's not just Yang that sees it that way:
A Kauffman Foundation study published in 2011 concluded that because financial instruments have become more complex, "the financial industry now focuses its recruiting on master's- and doctoral-level graduates of science, engineering, math and physics, and pays them starting wages that are five times or more what they would have earned had they remained in their own fields. Because these new hires are often the very individuals who otherwise would have comprised the most robust pool of prospective founders of high-growth companies, the financial services industry's steady rise has had a cannibalizing effect on entrepreneurship in the U.S. economy."
With the guarantee of a large paycheck to help pay down their sizable students loans and provide some stability and comfort, you can understand why top students might find it hard to resist the financial industry's siren song. But these sirens, as did the Greek ones of old, pull those trying to navigate their future in a direction they probably didn't envision and will find hard to come back from. Now, it may be hard to feel bad for people pulling down such hefty salaries, but that's not the point.
What would the world (and our economy) look like had Steve Jobs become a lawyer, or Mark Zuckerburg gone off to Wall Street, or Howard Schultz ended up in management consulting? Their companies, all the jobs they created, and whatever change they've brought to the world would not exist. But graduates don't have to start a company of their own right out of college to make a difference. Like more traditional career paths, experience inside a startup imparts a set of skills and a mindset that empowers those within it to branch out, bounce around within, and start new companies within their field. Consider the case of PayPal:
After PayPal was acquired by eBay in 2002, its founders and employees went on to found or cofound LinkedIn (Reid Hoffman), YouTube (Steve Chen, Jawed Karim, and Chad Hurley), Yelp (Russell Simmons and Jeremy Stoppelman), Tesla Motors (Elon Musk), SpaceX (Musk again), Yammer (David Sacks), 500 Startups (Dave McClure), and many other companies.
As CEO of Venture for America, Andrew Yang is working to make sure there are more success stories like these, and he is doing so all around the country—in places like Detroit and New Orleans, not just New York or Silicon Valley. His book is a continuation of that mission, showing how the allocation of human talent has been skewed and how to go about correcting it, on both a macro and an individual level.