January 11, 2013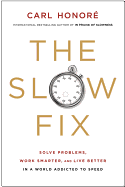 The Slow Fix: Solve Problems, Work Smarter, and Live Better in a World Addicted to Speed by Carl Honoré, HarperOne, 224 pages, $25.99, Hardcover, January 2013, ISBN 9780061128820
After reading the first six pages of The Slow Fix at my desk, I turned to a coworker and exclaimed, "This is so good!" And that's truly the best way to react to a book, isn't it? I'm not sure what it is about Honoré's voice that appeals so much to me, but when he takes the time to describe the offices of the World Health Organization like this:
Grey filing cabinets and in-trays piled high with folders line a dimly lit corridor. A yellow, handwritten note saying Hors Service (Out of Order) is taped to the coin slot of the drinks machine. Sandal-wearing academic types work quietly in offices with tropical fans on the ceiling. It feels like the sociology department of an underfunded university or a bureaucratic outpost in the developing world.
I do a little mental fist-pump—"Yes!"—because reading should be fun and open up worlds, even office worlds, that we've never stepped foot in. Honoré's writing remains engaging throughout, with careful attention to the people and places that populate his examples of successful slow fixes. At the base level, Honoré's argument is that, when trying to solve complex problems, the fast fix is the futile fix. After all, he somewhat cheekily claims, "No TEDTalk has ever changed the world." (Honoré gave a TEDtalk "In Praise of Slowness" in 2007.)
Whether your problem is related to health (Lose 15lbs in 2 days!) or business (Reduce staff to cut costs!) or manufacturing (Speed above quality!) or politics (WMDs anyone?), successful problem solving requires "a deeper, seismic change," and The Slow Fix offers an adaptable recipe for doing just that. "Think holistic" like a Charter Management Organization called Green Dot did when asked to fix a dangerous and disappointing South Central Los Angeles school. Or "Crowdsource" like Iceland did when their political system was in desperate disarray after the 2008 collapse of their economy. Perhaps "Play" like Honoré himself did in trying to motivate his family to perform their household chores using a game called Chore Wars that taps into the human instinct for play. Honoré encourages us to use those and/or several other slow approaches that will create lasting change. After all:
If the earth is going to sustain eight, nine, or even ten billion people, we need a revolution in the way we live, work, travel, consume, and think. Making this happen will be the biggest Slow Fix of all.