December 16, 2013
News & Opinion:
2013 800-CEO-READ Business Book Awards: Sales & Marketing
The entries were submitted, the books were read, the shortlists determined, and we are now ready to announce the category winners of the 2013 800-CEO-READ Business Book Awards! In the
Sales & Marketing
category... Marc Ecko's
Unlabel: Selling You Without Selling Out
from Touchstone Books is our pick.
"I am a brand, but I am not a label. … You too are a brand. Whether you know it or not. Whether you like it or not. A brand is not skin-deep. Labels are skin-deep, but a brand—a true, authentic brand—is made of blood and bones, skin and organs. A brand has a heartbeat." Unlabel, page 1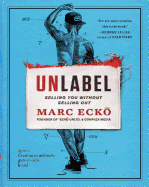 It is very rare to read an entire business book from cover to cover like you would a novel, and find within it a story that is so interesting and captivating that it immediately puts perspective on how you channel your own creativity and tell your own story.
Unlabel
is that book. At a time when every business person and company is forced to hustle and fight to be heard in a competitive world,
Unlabel
is the story of a man who clawed his way out of a garage and created a multi-million dollar company in the process. It is a success story, to be sure, but it's one that shares the bruises, scars, and painful mistakes that every entrepreneur and business owner will experience (or some variation of) on the way to becoming his or her own authentic 'brand.' To revisit the runners-up, check out
our Marketing & Sales shortlist
announced last week. (Our top award for The Best Business Book of 2013 will be announced in early January. Stay tuned!)
About Sally Haldorson
Sally Haldorson's job as 800-CEO-READ's General Manager is to make 800-CEO-READ a great place to work for our employees, and a consistently high-performing customer service organization for our clients, authors, and our partners in the publishing industry. In addition to her General Manager duties ensuring collaboration, integration, and quality, she reads, writes, reviews, curates, and edits for the company. Helping craft The 100 Best Business Books of All Time used parts of both skill sets. Outside of work, she is most likely to be found hitting a tennis ball around or hanging out with her boys (husband, child, dog) at home.