November 6, 2007
800-CEO-READ is doing more and more business internationally. This is not a new trend for us. In fact, we've shipped to places in Australia, Africa and so on since we first delved into the business book world. In the past few months we've been shipping more books to
Singapore
for conventions, avid American readers or Singaporeans that want to learn more about how Americans do business.
As a member of our customer service staff, this piqued my interest and I began wondering about Singapore: Why order books from the United States? Why use us? Are authors doing more business there for some reason? I don't expect answers to these questions, it's just something to think about and how this may influence our company and businesses in the future. Many companies are going global. There's even a McDonald's in Russia!.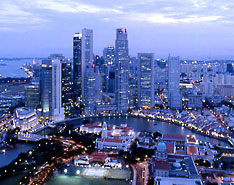 Here are some of the top business books that are selling in Singapore. And here is a sampling of what other countries are reading from us:
Wikinomics - Singapore What is Lean Six Sigma? - France End of Poverty - United Arab Emirates Treasure Hunt - Germany Redefining Global Strategy - Brazil
About Dylan Schleicher
Dylan Schleicher has been a part of the 800-CEO-READ claque since 2003. Even though he's stayed on at the company, he has not stayed put. After beginning in shipping & receiving, he joined customer service and accounting before moving into his current, highly elliptical orbit of duties overseeing the ChangeThis and In the Books websites, the company's annual review of books and in-house design. He lives with his wife and two children in the Washington Heights neighborhood on Milwaukee's West Side.