October 21, 2008
News & Opinion:
It's a good day for a ... Good Office
Kate is our token "What if?" employee, always coming up with ideas for ways to host events, run a meeting, or arrange our workspace. Many of her ideas are terrific--like hosting our annual Author Pow-Wow at the
Catalyst Ranch in Chicago
--and some are a little bit "out there"--like putting all of our desks on hydraulics so we can move up and down and across our office. Today,
this article on CNN
(check out the photos) got me thinking about the different ways we can make our work lives healthier and ease the strain on our bodies, eyes, and minds, as well as our natural environment.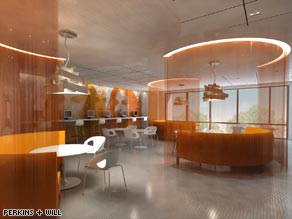 Oh, and to tie this post back to a business book...a few weeks ago our friend Cathy S. at HarperCollins sent us
The Good Office: Green Design on the Cutting Edge
, published by Collins Design.
The Good Office
is a beautiful photography book accompanied by short essays and information about architectural groups dedicated to bridging the gap between the working world and the environment.
The Good Office
provides examples of sustainable design that creates "a more positive space for both the environment and the worker." We might not all be able to work in beautiful "green" buildings, but there are small steps we can take to make our work spaces healthier and more comfortable. P.S. Kate--don't worry, we appreciate your "What if?s"!