June 13, 2014
Jack Covert Selects:
Jack Covert Selects - Executive Presence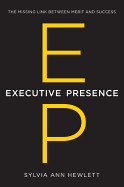 Executive Presence: The Missing Link Between Merit and Success by Sylvia Ann Hewlett, Harper Business, 210 pages, $26.99, hardcover, June 2014, ISBN 9780062246899
With her new book, Executive Presence: The Missing Link Between Merit and Success, Sylvia Ann Hewlett bravely tackles an unwelcome elephant in the room. Few people want to admit that appearance, or bearing, or reputation really plays a part in how much a person succeeds in his or her chosen profession. We want to believe ourselves to be "above" that, to have the ability to look only at the data, at a person's qualifications and performance. Hewlett says to ignore the "number of seemingly peripheral factors that feed into the judging process" is a detriment to yourself, and to all the hard work you've put into being an expert in your field. So what separates the proverbial wheat from the chaff?
It is executive presence—and no man or woman attains a top job, lands an extraordinary deal, or develops a significant following without this heady combination of confidence, poise, and authenticity that convinces the rest of us we're in the presence of someone who's the real deal. It's an amalgam of qualities that telegraphs that you're in charge or deserve to be.
Hewlett and her research team set out to find the "EP" equation—engaging in extensive surveys, focus groups, and interviews—so that everyone can feel more in control of how they are perceived. And they found that the three pillars that interact to form your EP are how you look (appearance), how you speak (communication), and how you act (gravitas). Gravitas is the foundation of EP; but communication and appearance play a part in either shoring up or eroding your gravitas.
For example, if your communication skills ensure you can "command a room," your gravitas grows exponentially; conversely, if your presentation is rambling and your manner timid, your gravitas suffers a blow.
Hewlitt is not advising an expensive or extensive wardrobe, but she is encouraging dressing and acting with intention, so "that you take pains to signal, in your appearance, a seriousness of purpose by attending to the details." But EP isn't only about offering a good first impression; It's about understanding how your personal brand needs to be nursed and maintained, and the critical role it plays in your future successes.
Managing your personal brand is almost a job unto itself, lest it be managed for you by people who don't hold your best interests at heart.
If you leave your image to other people, you can lose control of it quickly, and reputation can be a hard thing to rehabilitate.
Hewlett acknowledges that there is a fine line between confidence as evidence of competence and confidence as evidence of self-aggrandizement. And the terrain between conforming to standards while remaining authentic is rocky. But all of these sensitive subjects and more are in sure hands with Sylvia Ann Hewlett, and as such, your career will be, too, if you follow her lead with Executive Presence.