December 30, 2013
Jack Covert Selects:
Jack Covert Selects - Ninety Percent of Everything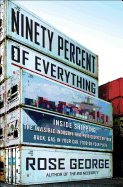 Ninety Percent of Everything: Inside Shipping, the Invisible Industry That Puts Clothes on Your Back, Gas in Your Car, and Food on Your Plate by Rose George, Metropolitan Books, 304 pages, $28.00, Hardcover, August 2013, ISBN 9780805092639
There is always one book that arrives with the submissions for our annual book awards that I'm surprised I missed when it came out. This year that book is Ninety Percent of Everything by Rose George, and it is probably my personal favorite of the year. It is the story of her trip aboard the container ship Maersk Kendal (Maersk is the largest container shipping company in the world, Kendal the name of the ship) and it has everything I love in a book—a great subject, great breadth, great stories, and most of all, great writing.
First, the subject: The modern shipping container is the building block our modern, globalized economy is built upon. Marc Levinson covered this territory in 2008 in The Box: How the Shipping Container Made the World Smaller and the World Economy Bigger. This book, Ninety Percent of Everything, is about the vessels those boxes are carried on. They are essential to the economy, and yet there is almost nothing popularly known about these fleets and the companies that own them, and even less about the people that work on them—until now.
Next, the breadth: As the title suggests, almost all goods are transported by sea, and the modern container ship is truly massive:
The biggest container ship can carry fifteen thousand boxes. It can hold 746 million bananas, one for every European on one ship. … If Kendal discharged her containers onto trucks, the line of traffic would be sixty miles long.
And, finally, the stories and writing George brings to the table are just as breathtaking as those numbers. Whether it's retelling an amusing story of Pinky the cook misplacing a decimal point so that Kendal once took on ten thousand eggs instead of one thousand, or the more morose story of dispersing a captain's ashes at sea, only to have the wind blow them back onto a freshly painted deck, necessitating the crew to "chip it all off and scatter the painted ashes," George is a master storyteller—even when the stories are second hand.
There is a wonderful, age-old romanticism to life at sea, and in building such massive ships to float our goods over the great distances and depths of water, but as the author finds aboard the Kendal, life on these vessels is incredibly mundane. ("A seafarer joke: I travel the world but it all looks like my engine room"). This is especially true of modern container ships, which spend much less time in port than their predecessors; What took weeks to move off a traditional ship can be done in a day on container ships. Add to that the cargo of blank boxes of unknown contents, stacked on the blank grey deck of a massive ship, floating upon a blank ocean, and the work environment becomes very dull. This belies its incredible danger: There are more than two ships lost at sea every week, and two thousand seafarers die every year while working that vast expanse, and the people doing that work are—as in most large industries—paid as little as possible, worked as hard as possible, and given the barest amenities.
The blankness of that blue sea on our maps applies to the people who work on it, too. Buy your fair-trade coffee beans by all means, but don't' assume fair-trade principals govern the conditions of the men who fetch it for you. You would be mistaken.
Ninety Percent of Everything is shortlisted in the Finance and Economics category of our 2013 Business Book Awards. It is not a book about finance and economics, per se, but the industry she covers so well includes the economies of just about everything else. It is one of the largest, largely untold economic stories going, and Rose George approaches it from the perfect angle—the human one.