April 11, 2014
Jack Covert Selects:
Jack Covert Selects - Things a Little Bird Told Me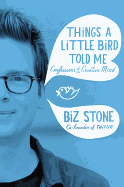 Things a Little Bird Told Me: Confessions of the Creative Mind by Biz Stone, Grand Central Publishing, 240 pages, $26.00, Hardcover, April 2014, ISBN 9781455528714
Twitter is an interesting company. For years I've wondered, "how does it make money?" My frequent use of it kept me from worrying too much about it, but when Twitter co-founder Biz Stone's Things a Little Bird Told Me came across my desk, I was excited to peer behind the curtain to find out how it all works. I got that, and surprisingly much more, from the book.
What struck me early on is Stone's sentiment of "creating opportunity." Generally, we work to prepare ourselves for opportunity, to be ready and waiting for its arrival. But what if that opportunity doesn't come? We wait, pity ourselves, and start to look in other directions. But Stone points us in yet another direction, and it's an important lesson: We can create opportunities for ourselves.
Here's how Stone sees it:
[S]tarting a lacrosse team, producing a play, launching your own company, or actively building the company you work for is all more creatively fulfilling and potentially lucrative than simply doing what is expected of you. Believing in yourself, the genius you, means you have confidence in your ideas before they even exist. In order to have a vision for a business, or for your own potential, you must allocate space for that vision. I want to play on a sports team. I didn't make it on a team. How can I reconcile these truths? I don't like my job, but I love this one tiny piece of it, so how can I do that instead? Real opportunities in the world aren't listed on job boards, and they don't pop up in your in-box with the subject line: Great Opportunity Could Be Yours. Inventing your dream is the first and biggest step toward making it come true. Once you realize this simple truth, a whole new world of possibilities opens up in front of you.
While this might sound idealistic, it is precisely how Stone landed his job at Google, which in turn connected him with the people he would eventually start Twitter with. And his Twitter story, as well as his Google story and others (instating his own "no homework rule" in high school is a good one) are certainly interesting. More importantly, they're not all about Stone. Peppered throughout the twists and turns of his adventures are the lessons he learned, and he pauses to make sure readers understand them, making the book more useful than a simple business memoir.
For anyone interested in how a major social media company formed, this is a great book. It's also an important reminder that we all can do great things, if we only have confidence in our ideas and work toward them as diligently as possible. We don't need anyone's permission or invitation but our own. If you're looking for one, though, I'll leave you with this one from Biz Stone:
I invite you to open your mind to new possibilities. Let's fake it till we make it. Let's create visions of an aspirational future.