March 15, 2013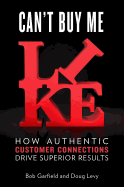 Can't Buy Me Like: How Authentic Customer Connections Drive Superior Results by Bob Garfield & Doug Levy, Portfolio, 229 pages, $25.95, Hardcover, March 2013, ISBN 9781591845775
It's a lousy cliché, but the instruction to "be yourself" is becoming an essential modus operandi for today's successful marketers. When social media arrived on the radars of advertisers and marketers, many said, "Oh goody, new media to purchase," and quickly filled up the cheap new real estate with the same old message: "We are great! Buy our stuff!" They were quickly dismayed by their inability to get results they were used to with this kind of messaging. In Can't Buy Me Like, Bob Garfield and Doug Levy provide the why and the wherefore to the essential follow up question: "What has happened to the audience we once controlled?"
"Welcome to the Relationship Era," they say, yet it won't feel like a warm welcome to many. They spell out the present and future (i.e. the death) of advertising. They tell us that googling "I love Satan" will elicit ten times more results than will "I love Citibank"—293,000 against 21,100, respectively.
But they have good news to share, as well, such as the growth Panera Bread has seen because of their choice to put people and relationships before profits—or rather, perhaps, because of their ability to drive profits through its people and relationships. Anecdotes and lessons such as these quickly override the negative and they continue throughout the book, inspiring something real inside us—maybe the understanding that business is, after all, personal. And these stories are exciting too, as we begin to dawn on the realization that in this new era we don't need to fret over the market research we can't afford. Good companies are winning, simply by being themselves.
The authors share MEplusYOU's "Brand Sustainability Map," a chart mapping customer trust and transactions across different types of relationships. It's a good way to measure your relationships with your customers, and the authors reveal the most important part about it:
Put aside the notion of investing in the research required to definitively plot your brand on the grid. What matters most is the very concept of the Brand Sustainability Map. Once you accept what it reveals, you will most likely be able to intuit with some accuracy where you brand sits, and in which direction it is headed.
Of course, multi-billion dollar companies will continue spending big money on marketing, but the good news is that it's not the most important thing anymore—relationships are. The book is full of stories about companies that soared in the Consumer Era and are struggling in the Relationship Era, and of companies now thriving in the Relationship Era. In many cases, these examples are of such ubiquitous brands that we can't help but see the immediate wisdom in the appraisal of the situation.
Garfield and Levy bring their decades of experience in advertising and brand analysis to (literally) lay out a map that companies can use to move toward more sustainable and profitable relationships with their customers. As they say, it's the concept itself that's essential, and once you've embraced it you're probably already moving in the right direction. Their book will point you there.