June 13, 2014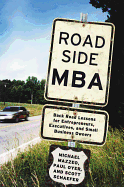 Roadside MBA: Back Road Lessons for Entrepreneurs, Executives, and Small Business Owners by Michael Mazzeo, Paul Oyer, and Scott Schaefer, Business Plus, 279 pages, $27.00, hardcover, June 2014, ISBN 9781455598892
Three microeconomics professors enter a shoe store in Maine… It sounds like the beginning of a bad joke, or a very boring story. It is actually the beginning of a great new book that combines two quintessentially American things: the road trip and small businesses.
If you're worried that an economics book by three scholars is going to be too dry or complex, don't be; Roadside MBA is rooted in the everyday economic reasoning that companies and individuals use in the real world, and they leave the math and graphs out of it. They teach through the stories of the small businesses they visited on their travels across America. So, you'll learn about economies of scale, and fixed and variable costs from Braces by Burris, an orthodontist in Jonesboro, Arkansas. You'll learn about things like scaling your business, identifying demand, and quality monitoring from Steel Rubber Products in Denver, North Carolina, Silk Espresso in Gresham, Oregon, and Mugshots Grill and Bar in Hattiesburg, Mississippi—and that's all within the first twenty pages!
That match of brevity and breadth is possible because the stories are quick, yet concise (usually four or five a chapter), which also keeps the pace brisk and the reader engaged. Another benefit of this approach is that you get to hear business owners explain their operations in their own words. These are not case studies, but stories directly from the front lines of American enterprise.
So, you'll learn about serving your target customer and product differentiation from Dave Bobbit, who started Community 1st Bank in Post Falls, Idaho after retiring from a bigger bank in a larger town nearby. Describing what he does to remain community oriented and make personal connections with his customers:
"There's not any one thing," Dave said. "It's a lot of things … Every new account that's opened gets a personal letter from me. We always have coffee and cookies in the lobby … every day. We send birthday cards to every customer.
"We do a bank barbecue one Friday a month … We do about two hundred burgers on Friday between eleven and one. Anybody can come. … It's gotten to be a real community event." When some of his employees told him that having cookies in the lobby everyday was attracting people to hang around the lobby, he said "Yeah, that's what I want. … I want people to come here and hang out." Now, as nice and warm and fuzzy as that sounds, not all of us want people hanging out in our lobbies or offices everyday. But, as nice and homey as it sounds, it's also a sound strategic decision for Dave. So how do you know if this kind of strategy (or any detailed in the book) will work for you? That is where a simple philosophy of business—that one of the authors "has so repeatedly emphasized in his classes" that they named it after him—comes in. It is:
Mazzeo's Law
The answer to every strategic question is "it depends."
Corollary 1
The trick is knowing what it depends on.
Corollary 2
If the answer to a question isn't "it depends," then it's not a strategic question.
With the vast number (and variety) of stories you'll get from Roadside MBA, you'll get a thorough education in "it depends" that will leave you much wiser about what your own business—large or small—depends on. And so, when it comes to making the strategic decision about whether you should pick up Roadside MBA, I would say: "It depends… do you want to be successful?"